Memory of a Cosmic Heart
$ 5.00
Feel the Love of an Open Heart. Memory of a Cosmic Heart is a synergy of musicians, vocalists, opera singers, choir, DJ, and artists working together to bring this musical odyssey to life. We are nearly finished mixing the album and are asking everyone  to support this project by pre-ordering the limited edition album, purchasing the numerous rewards, or become a sponsor, and receive credit on the album, illuminated manuscript, and theatrical concert.
PURPOSE: "Memory of a Cosmic Heart" is made up of three parts- it is an album of music, an illuminated manuscript, and a theatrical performance, designed to awaken the neural connections in the heart, sending an electromagnetic wave of love to hearts around the planet. 
STORY: A daughter of the Sun falls to earth and is born a human. Her name is Memory. A fiery soul growing up in a fleshy garment is challenging, yet she does her best to fit in, sharing her gifts and heart, until visions of her celestial home begin to appear. I am creating an illuminated manuscript of the story and songs.
MUSIC: It is cinematic, operatic, new age, ambient, with world and electronic accents. The talent on the album is a synergistic dream.
CONCERT: After the music and book are produced, then a multi-media concert will be the final incarnation of the project.
We are offering special limited edition versions of:
(album cover art may change)
200 vinyl LPs, with full color jacket, printed protective inner sleeve , and hand pressed foil numbering. Some of these LPs will be paired with limited edition prints and artwork! See the Rewards for details. There is something authentic about the tangible reality of records. Pulling an album from its jacket, then taking it out of its sleeve, placing it on the turntable and watching the needle hit the grooves is relaxing, and fulfilling. It almost feels like a sacred ritual.
  (CD cover art may change)
300 CDs within a full color Eco Digipak. Will come with a booklet of lyrics and esoterica. Some of these are available with artwork!
                                      
Digital Downloads are available for only $15.
100 Illuminated Manuscripts, 9"x9" hard cover, full color, numbered and signed.  I am writing and creating the art for this story of a daughter of the sun who falls to earth and is born as a human. She grows up learning the ways of earth, sharing the power of her cosmic heart, until memories reveal the origins of her solar home. The pages will be filled with fascinating esoterica on astronomy, geology, astrophysics, metaphysics, and alchemy.

→ TELL ME MORE

Together with my writing partner Rob Jacobs we have been developing this musical odyssey of the heart for over ten years. From the beginning our desire was to compose songs that expressed a love lifting vibration, evoking feelings of wellbeing and peace. Patience and time allowed the music to evolve, become more nuanced, more beautiful, ultimately transcending our initial conception. 

Final recording and production are in the works now, with a launch of the Vinyl and CD and Illuminated Manuscript scheduled for late 2018.

→ THE HEART OF IT

The heart is revered in all cultures as a symbol for love, 
courage, and compassion. It represents the ambition of the soul, connecting our physical evolution to our spiritual revolution. Like a multi-faceted gem the heart's physical attributes are many.

✧ The heart is the first organ to form in the body. It is the organizing factor for physical formation, including brain formation. The heart contains extensive brain-like neural matter and has recently been classified as a gland because it produces its own hormone. The heart not only puts out its own balancing and regulating hormones, but also instantaneously communicates electromagnetic and chemical information to the rest of the body and to other bodies near it.

✧ Research has shown that the heart is the most powerful generator of electromagnetic energy in the human body. The electromagnetic energy of the heart not only envelops every cell of the human body, but also extends out in all directions in the space around us. The heart's electrical field is about 60 times greater in amplitude than the electrical activity generated by the brain. 

✧ Our cardiac field touches those within 8-10 feet of where we are positioned (and perhaps in more subtle ways at greater distances). One person's heart signal can effect another's brainwaves, and heart-brain synchronization can occur between two people when they interact.

✧ On microcosmic/macrocosmic levels we are physically,  energetically, made of stardust, connecting us intrinsically to the cosmos. The rhythm of the heart reflects the tides of the oceans, the pulse of quasars, the motion of the universe, and the dance of God. 

"We are a way for the universe to know itself. Some part of our being knows this is where we came from. We long to return. And we can, because the cosmos is also within us. We're made of star stuff." - Carl Sagan
→ AMAZING MUSICIANS
James Raymond, Producer, Piano, Keyboards Sangeeta Kaur, Soprano Seay, Mezzo Soprano Nick Palance, Tenor Madi Sato, Ceremony Singer Drew Corey, Choir Director C3LA Choir, Tyler Azelton, Saunder Choi, Drew Corey, Amy Golden, Amy Gorden, Molly Pease, Joseph Thel, Jaco Wong, Diana Woolner Suzanne Teng, Flutes Gilbert Levy, Percussion Fritz Heede, Piano, Guitar Dov, Violin, Viola Montana Jose, Producer, DJ, Electronic Mixes Brandon Cervantes, French Horns Jeremy Kidd, Guitar Rob Jacobs, Harmonium Greg Spalenka, Background Vocals, Percussion
→ VISION
We are rolling this production out in two phases: PHASE 1. Produce a limited edition vinyl record, limited edition CD along with digital downloads. Making an album of this caliber is expensive. Everyone is being compensated for their time and talent, this includes the musicians, studio engineers, mixing and mastering engineers, manufacturing the vinyl record, and CD. PHASE 1a. The story will be made into a limited edition illuminated manuscript. Equal parts story book, astronomy, geology, astrophysics, metaphysics, and alchemical inquiry- this is an illustrated adventure of the mind and spirit. PHASE 2. Lastly, a multi-media concert will be the grand finale, and can happen after the first phase is successful.
---✧✦ YOU ✦✧---
By participating in this funding campaign you will:
✦ 1. Be part of the collective, to make this music a reality, so it can help us send an electromagnetic wave of love to the planet. Also, you will own the only limited edition Vinyl and CD versions of this music.
✦ 2. You will help fund the creation of the illuminated manuscript that tells a tale of our cosmic origins, and more.
✦ 3. Set the stage for the concert. After so many years of nurturing and developing this project it becomes like a long pregnancy. Now this Cosmic Heart is ready to be born! With you, we can make this happen, with your support we can make Memory of a Cosmic Heart a reality.
→ REWARDS
♥ We have assembled an array of rewards for your generous contributions. These prices include shipping to the US. If you are in a foreign country we will bill you for the shipping fees separately.
♥ Master botanical perfumer, Roxana Villa is creating a very special, high vibrational plant fragrance to accompany this album. A sample of this uplifting fragrance will be included with all CD and Vinyl rewards. Follow the progress of the pure fume at her journal.
Do you believe in the healing power of music and supporting the arts, but would rather not purchase more music—then this pledge level is for you.
Thank you!! ♥

========================================

✧Tiger Eye✧ $15

Digital download of all the music on the album sent to you or a loved one. ♥
Estimated delivery: November 2018 Thank you!!

========================================

✧Carnelian✧ $30


 Digital download of all the music on the album & the limited edition CD, signed by Greg Spalenka and Rob Jacobs. ♥
Estimated delivery: November 2018  Thank you!!
{ 150 Available }
========================================

✧Aventurine ✧ $35


Digital download of all the music on the album and a 50ml bottle of Bulgarian rose hydrosol, distilled in Marin County, offered by Monika of Mala Apothecary in Malibu, CA. Hydrosols are balancing, hydrating and calming to the skin, mind and body. They are safe for children and also make a wonderful drinking tonic in fresh spring water. malaapothecary.com 
♥
Estimated delivery: November 2018 Thank you!!
{ 2 Available }

========================================

✧Agate✧ $40
Digital download of all the music on the album & an Online Heart Virtue Assessment (normally $50). 
HeartVirtue.com 
♥
Estimated delivery: November 2018 Thank you!!
{ 3 Available }

========================================

✧Rose Quartz✧ $65



Digital download of all the music on the album & the limited edition 12" Vinyl LP signed by Greg Spalenka and Rob Jacobs.
♥
Estimated delivery: November 2018 Thank you!!
{ 125 Available }

========================================

✧Citrine✧ $70


Digital download of all the music on the album and the limited edition of Memory of a Cosmic Heart Illuminated Manuscript, 9"x9" hard cover, full color, numbered, signed and with a small sketch.
♥
Estimated delivery: November 2018 Thank you!!
{ 25 Available }

========================================

✧Lapis lazuli✧ $80


Digital download of all the music on the album, the limited edition CD & a 5x5 drawing by Greg Spalenka.
♥
Estimated delivery: November 2018 Thank you!!
{ 10 Available }

========================================

✧Labradorite✧ $90
Digital download of all the music on the album, the limited edition CD & 12" Vinyl LP.
♥
Estimated delivery: November 2018 Thank you!!
{ 10 Available }

========================================

✧Fluorite✧ $95


Digital download of all the music on the album, the limited edition CD, and the limited edition of Memory of a Cosmic Heart Illuminated Manuscript, 9"x9" hard cover, full color, numbered, signed and with a small sketch.
♥
Estimated delivery: November 2018 Thank you!!
{ 25 Available }

========================================

✧Turquoise✧ $100


Digital download of all the music on the album, the limited edition 12" Vinyl LP & limited edition print of the cover art by Greg Spalenka.
♥
Estimated delivery: November 2018 Thank you!!
{ 10 Available }

========================================

✧Tametrine✧ $120
Digital download of all the music on the album, and a one on one life coaching session with Chiara Pietrogiovanna, MA. ($150 value)LiveYourBestLifeNow.com 
♥
Estimated delivery: November 2018 Thank you!!
{ 1 Available }

========================================

✧Amber✧ $125
Digital download of all the music on the album, the limited edition 12" Vinyl LP, and the limited edition of Memory of a Cosmic Heart Illuminated Manuscript, 9"x9" hard cover, full color, numbered, signed and with a small sketch.
♥
Estimated delivery: November 2018 Thank you!!
{ 25 Available }

========================================

✧Celestite✧ $145
Digital download of all the music on the album, the limited edition 12" Vinyl LP, limited edition CD, and the limited edition, Memory of a Cosmic Heart Illuminated Manuscript, 9"x9" hard cover, full color, numbered, signed and with a small sketch.
♥
Estimated delivery: November 2018 Thank you!!
{ 25 Available }

========================================

✧Bloodstone✧ $150
Digital download of the music, and a one on one Heart Virtue Session with Greg Montana. ($250 value).
HeartVirtue.com 
♥
Estimated delivery: November 2018 Thank you!!
{ 1 Available }

========================================

✧Aquamarine✧ $180


Digital download of all the music on the album, the limited edition CD & 12" Vinyl LP and a signed, 'Sky Trails' LP by David Crosby. James Raymond co-produced this album with his Dad, who happens to be Croz.
♥
Estimated delivery: November 2018 Thank you!!
{ 1 Available }

========================================

✧Azurite✧ $200
Digital download of the music, the CD & a 5x5 original painting by Greg Spalenka in an alchemical theme of your choice. 
♥
Estimated delivery: November 2018 Thank you!!
{ 5 Available }

========================================

✧Larimar✧ $300

Digital download of the music, the CD and a bundle of 15 CD's + 1 DVD or 16 CD's by the contributing musical artists-
Sangeeta Kaur: Niguma or Ascension
Seay: In the Garden
Mystic Journey: Kingdom of Mountains, Enchanted Wind, Miles Beyond, Mystic Journey
Nick Palance: Live on El Paseo DVD or Saving Grace CD
Frtiz Heade: Illuminated Manuscripts or Ritual Path
DOV: Sagewing, Forest Reverie, Seraphim Rhapsody, Journey to Eden
Greg Spalenka: The Visions of Vespertina CD + booklet
Memory of a Cosmic Heart CD
♥
Estimated delivery: November 2018 Thank you!!
{ 2 Available }



========================================

✧Amethyst✧ $495
Digital download of the music, the 12" Vinyl LP & a 12x12 original painting by Greg Spalenka in an alchemical theme of your choice. 
♥
Estimated delivery: November 2018 Thank you!!
{ 5 Available }

========================================

✧Moonstone✧ $500


Join the Cosmic Heart team as an Assistant Producer of Feline Friendship. Your name will appear in the album credits on all versions, including the theatrical performance. You will also receive a digital download, CD and the 12" Vinyl LP to thank you for your generous heart.
♥
{ 2 Available }

========================================

✧Clear Quartz✧ $1000


Join the Cosmic Heart team as an Associate Producer and Protector of the Sacred Tree of Knowledge. Your name will appear in the album credits on all versions, including the theatrical performance. You will also receive a digital download, CD and the 12" Vinyl LP to thank you for your generous heart.
♥
{2 Available }

========================================

✧Opal✧ $2000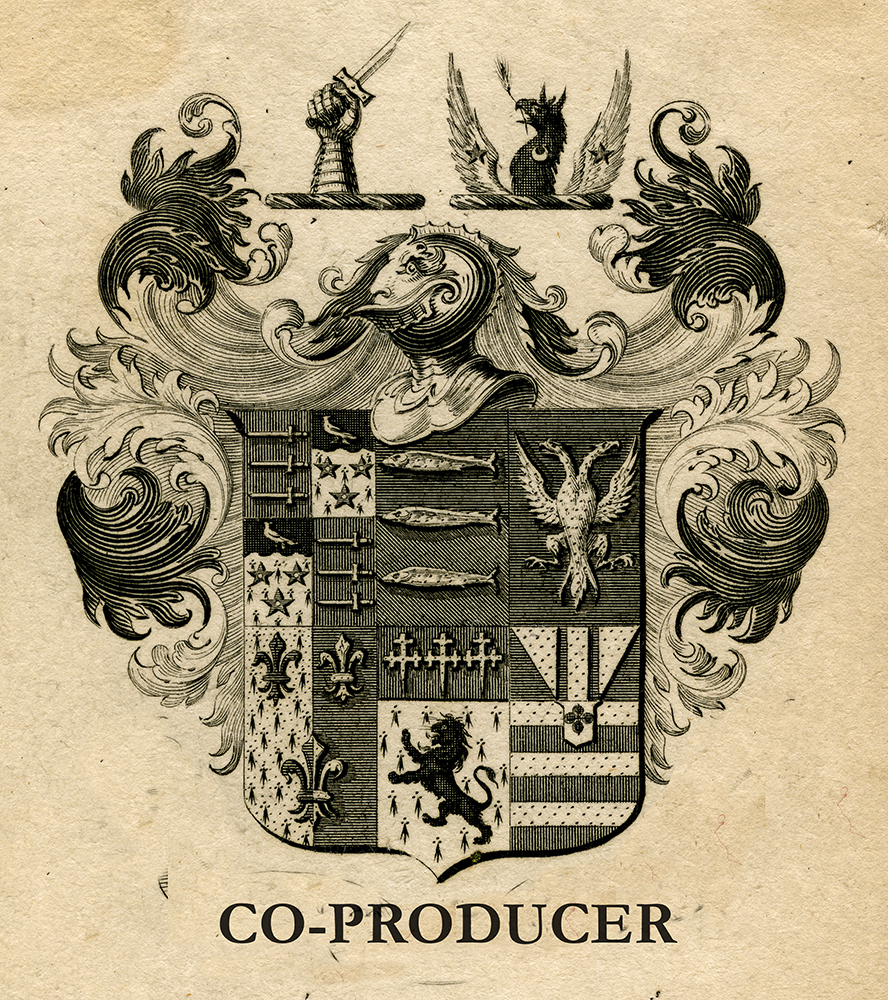 Join the Cosmic Heart team as Co-Producer and Protector of Cosmic Creations! Your name will appear in the album credits on any versions, including the theatrical performance. You will also receive a digital download, CD and the 12" Vinyl LP as well as a 12"x12" original painting of an alchemical concept of your choice. and a big thank you for your generous heart.
♥
{ 2 Available }

========================================

✧Diamond✧ $4000


Join the Cosmic Heart team as an Archangel! Your name will appear in the album credits on all versions as an Executive Producer and Protector  of Cosmic Hearts, including the theatrical performance. You will also receive a digital download, CD,  the 12" Vinyl LP and the following original painting (See link below) or similar- Nature's Graces, 46″x52″ mixed media (oil, acrylic, metallics and gold leaf on vinyl and wood), honey, coffee, varnish). $4000 value. See it here.  https://www.spalenka.com/products/copy-of-wings-museum-quality-light-jet-print-on-wood Shipping is not included.
♥
{ 2 Available. Artwork will be different for each reward }

========================================

→ PAYMENTS

If you would like to pay using a different currency please contact me: Greg (at) spalenka.com

→ OTHER WAYS YOU CAN HELP

If contributing financially is not an option for you at the moment please help us out by spreading the word  ---> Share this page with everyone you know through Facebook, Twitter, Instagram, email and word of mouth.

We also have lots of assets for you to help us get the word out, find them below.
https://www.facebook.com/spalenka

✧♥✧
Special heartfelt gratitude to Kristina Bauer for her guidance on crowd funding and all the contributors who are helping make this project a reality!
✧♥✧  
                                                                 ---✧✦ SPONSORS ✦✧---